Serve Colorado's AmeriCorps program continued to have AmeriCorps members on the ground serving their communities throughout 2020. Read more about their impact last year in our 2020 Annual Report. AmeriCorps members in all programs are continuing to help their communities stay safe and build back better.
If you need information on COVID-19 and how to protect yourself and your family please visit https://covid19.colorado.gov/.
#FFFFFF
COVID-19 Containment Response Corps
The COVID-19 Containment Response Corps is an initiative created in June 2020 through a partnership between AmeriCorps, Gary Community Investments, Serve Colorado, Governor Jared Polis, and the Colorado Department of Public Health and Environment (CDPHE). In addition, four nonprofit organizations stepped up to host members including Community Resource Center, Conservation Legacy, Cultivate, and Volunteers of America Colorado.
This partnership has provided extra support to Local Public Health Authorities to respond to COVID-19 cases, allowing information on isolation and quarantine to be shared quickly. Members support case investigation, contact tracing, resource coordination, test result notification, isolation and quarantine monitoring and vaccine education outreach to contain the spread of COVID-19 within Colorado. AmeriCorps members and AmeriCorps senior volunteers have served over 60,000 Coloradans with this effort. 
The COVID-19 Containment Response Corps was awarded Outstanding Service Program at the 2021 America's Service Commissions Innovation and Leadership Awards.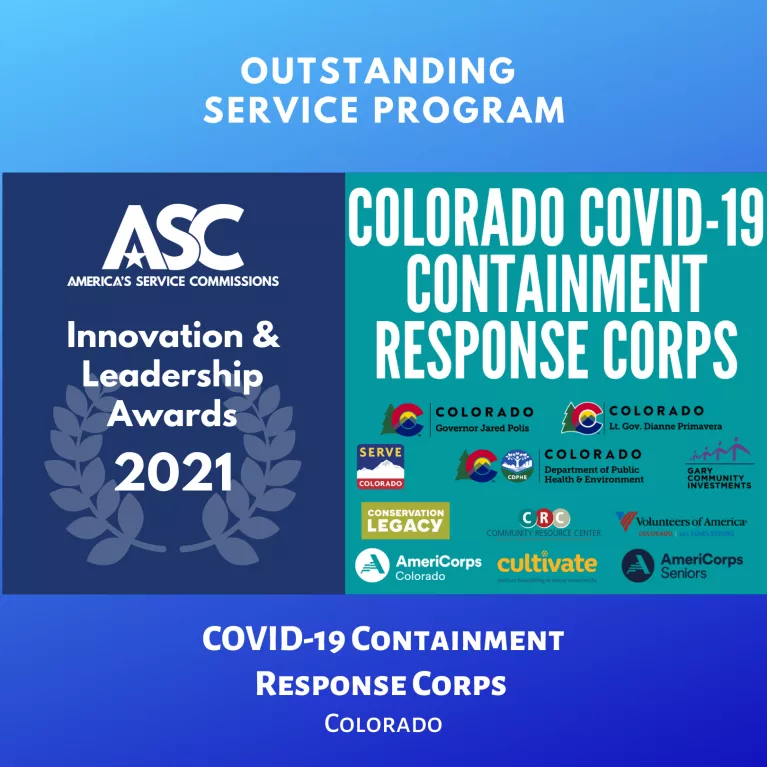 #FFFFFF
Colorado Tutoring Corps Initiative
Colorado Youth for a Change (CYC) and Serve Colorado received funding from the Governor's Emergency Education Relief program and AmeriCorps to expand tutoring and student support programs. 
This initiative will place 470 AmeriCorps members in communities across the state to provide evidence-based math and reading tutoring interventions to pre-K through 8th grade students, and provide student and family engagement interventions to high school students.
As part of the expansion, CYC will scale up its preexisting programs, Reading Corps and Corps for a Change, as well as launch a new program called Math Corps, a replication of a Minnesota program serving students in grades 4-8 who are behind grade level in math.
Learn more about serving with one of these programs at https://youthforachange.org/join-americorps/.
#FFFFFF
United Way of Southwest Colorado- TeamUp for Schools
United Way of Southwest Colorado received funds to place 39 AmeriCorps members to serve at schools and nonprofits across Southwest Colorado to help with teaching, tutoring, and all forms of student engagement and enrichment. Some members will serve mid-May until the end of December 2021.
The program was created to help get students back on track. Team Up for Schools works with 9 school districts, San Juan BOCES, United Way of Southwest Colorado, Serve Colorado (AmeriCorps), Colorado Department of Education, and several local nonprofits working together for kids in Southwest Colorado. 
Learn more about the program here. 
#FFFFFF
Colorado State University Extension Education Support AmeriCorps
An innovative new program born of a partnership between CSU Extension, AmeriCorps, and the CSU Center for Educator Preparation is addressing the ongoing teacher shortage in Colorado. The partnership provides training and support for AmeriCorps members to serve in Colorado school districts, supporting teachers and administrators by providing tutoring, afterschool programs, and other academic support for students, as well as filling in as substitute teachers when no other option is available. The program allows AmeriCorps members to develop the skills needed to apply to a teacher preparation program at the conclusion of their service year.

Learn more about the program here.